Inside Craft POS System for Creative Connections Program 2017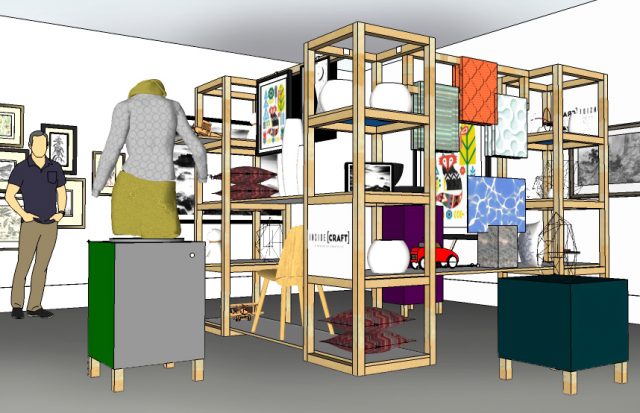 Another sneek peek at a current studio project, this time for the new Creative Connections program iniated by the Local Enterprise Offices of  Cavan, Leitrim, Longford and Roscommon. This exciting new project called 'Inside Craft' aims to develop a range of supports for local designers and craftspeople including upskilling workshops, a new web site and a craft trail with a Pop Up retail outlet. Leo Scarff Design has been commissioned to design and manufacture this new POS system for the network and it will tour the North West of Ireland to several key craft and tourist outlets in the second half of the year.
Our design has been purposely kept minimal so as not to impose too much on the wide range of products to be displayed. Works by over 40 craftspeople will be displayed, from framed prints, textiles, ceramics, clothing and jewellry so the design is suitably low key and yet functionally caters for every size and orientation of work. Tower shelf frameworks in solid Ash enable shelves in laminate covered Birch Plywood to be slotted in at various heights. In addition to this there will be a white aluminium and glass jewellry case, hanging rails and storage units for stock and packaging in the brand colours.
If you are a craftworker based in the region check out the web site for more information and watch out for the retail pop up from August onwards. It's great to see the huge support that the Enterprise Offices give to local designers and craftpeople.
https://www.localenterprise.ie/Cavan/Enterprise-Development/Creative%20Connections/